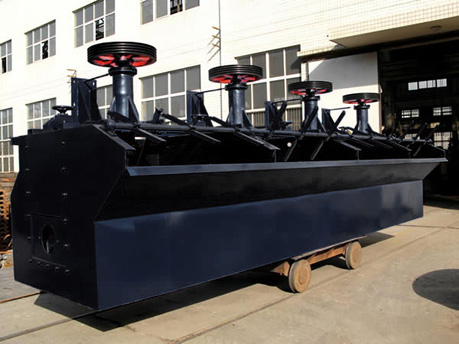 Flotation Machine
Product Model: Various specificiations for choice
Production capacity: 0.2-8 m³/min
Material: coal, fluorite, talc, gold, molybdenum ore, nickel ore, fluorite ore, copper ore, antimony ore, zinc, and tungsten ore,etc.
Flotation cell is suitable to separate non-ferrous black metals, and separate nonmetal, for example, coal fluorite e, and talc.The flotation machine can form a flotation separation loop by itself without any auxiliary equipment and it is allocated horizontally, which favors the change of flow.
Flotation cell is short of concentrator, which refers to the machinery and equipment used to complete flotation process. To add pulp treated by agentia into flotation cell and stir the air to make some mineral particles selectively flotating above bubbles, and collect the bubbles floating to pulp surface to get foam product, while the rest still remain in the pulp to achieve the purpose of separating minerals. The flotation concentrator has many forms of structure, and the most commonly used is the mechanical flotation concentrator. Flotation cell is mainly used for sorting copper, zinc, lead, nickel, gold and other non-ferrous metals, and the rough concentration and garbling concentration of black metal and non-metallic.
The impeller rotates when flotation cell works, the pulp in tank will be sucked to impellers from groove bottom through the lower end of the impeller, meanwhile, the low-pressure air will be fed into the tank through the hollow shaft and the air distributor of impeller. The pulp will be pushed out from the first half of the impeller after sufficiently mixing with air, and then entered the tank after flow regulating and orientating by stator. Bubbles rise to foam stability area, and overbrim by itself from the overflow weir and enter into bubble tank after the collecting process. The other pulp will flow to the lower part of the impeller, and then re-mix to mineralized bubbles after stirring by the impeller, while the remaining pulp flows to the next tank and eventually become tailings.
The performance and characteristics
1. Good wear resistance
2. Good corrosion resistance
3. Strong bonding
4. Excellent impact resistance
5. A wide range of application
The working principle of flotation cell
The Zhongde flotation machine is the first mechanical open type machine to incorporate a vertical circulation of pulp, made possible by combining a "recirculation well" with the distinctive top feed impeller. This arrangement provides positive vertical circulation of pulp similar to the action in a propeller agitator. Pulp from an intermediate zone of the cell is circulated down into the eye of the impeller, mixed with air, and diffused out over the entire bottom of the cell, creating a uniform upward current. This principle varies from most other mechanical open type cells which circulate pulp by lifting it up from the bottom of the cell into the centre of a rotating element.
Model
Trough cubage
(m³)
Inside dimensions
(L×W×vH)
(m)
Air suction amount
(m³ /m² · min )
Power
(kw)
Motor model
Processing capacity
(m³ /min )
Single trough weight
(kg)
BF-0.37
0.37
0.74×0.74×0.75
0.9~1.05
1.5
Y90L-4
0.2~0.4
470
BF-0.65
0.65
0.85×0.95×0.9
0.9~1.10
3.0
Y132S-6
0.3~0.7
932
BF-1.2
1.2
1.05×1.15×1.10
1.0~1.10
5.5
4.0
Y132M2-6
Y132M1-6
0.6~1.2
1370
BF-2.0
2.0
1.40×1.45×1.12
1.0~1.10
7.5
Y160M-6
1.0~2.0
1750
BF-2.8
2.8
1.65×1.65×1.15
0.9~1.10
11
Y180L-8
1.4~3.0
2130
BF-4.0
4.0
1.9×2.0×1.2
0.9~1.10
15
Y200L-8
2~4
2585
BF-6.0
6.0
2.2×2.35×1.3
0.9~1.10
18.5
Y225S-8
3~6
3300
BF-8.0
8.0
2.25×2.85×1.4
0.9~1.10
22
30
Y225M-8
Y250M-8
4~8
4130
BF-10
10
2.25×2.85×1.7
0.9~1.10
22
30
Y225M-8
Y250M-8
5~10
4660
BF-16
16
2.85×3.8×1.7
0.9~1.10
37
45
Y280S-8
Y280M-8
8~16
8320
BF-20
20
2.85×3.8×2.0
0.9~1.10
37
45
Y280S-8
Y280M-8
10~20
8670
BF-24
24
3.15×4.15×2.0
0.9~1.10
45
Y280M-8
12~24
8970
If you're in need of a Flotation Machine you've come to the right place. Whether you know exactly what you need, or are in need of some guidance, we are here to help. Please feel free to contact us via Email or filling in the following form.