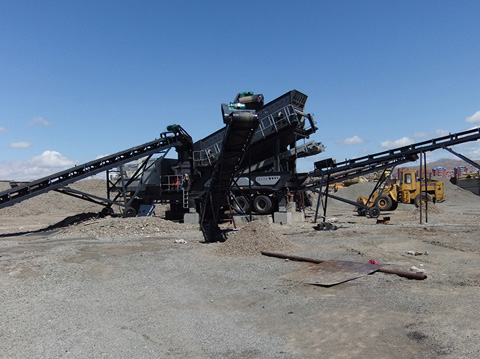 Mobile Crushing Station
Mobile crushing station ensures the crushing plant can be easily transported on highways and moved to crushing sites
Mobile Crushing Station is a kind of high efficiency crushing equipment, driven by their own way, the technology is advanced, the function is all ready. In any terrain conditions, this equipment can reach the place of any position. Mobile crushing station has large broken rate, its optimization design can meet the technical characteristics of crushe, productivity is high, the finished product granularity is uniform.
Features:
1. Light weight, small volume and is especially suitable for narrow site work;
2. The transportation is convenient, crawler walking, do not damage the road surface, equipped with multi-function apparels, adaptation range is extensive;
3. Set feeding material, crushing, transfering process equipment as the whole, can well crush stone, aggregate, open-air mining.
4. The whole machine adopt all-wheel drive, which can realize spin, standard configuration, quick change device, with perfect security protection function, especially suitable for space narrow, complex area;
5. Save fuel, fuel savings rate is as high as 25%;
6. Group included power optimization design;
7. Can climbing a hill, satisfy mine, hydropower station, coal mining and other engineering requirements.
If you're in need of a Mobile Crushing Station you've come to the right place. Whether you know exactly what you need, or are in need of some guidance, we are here to help. Please feel free to contact us via Email or filling in the following form.