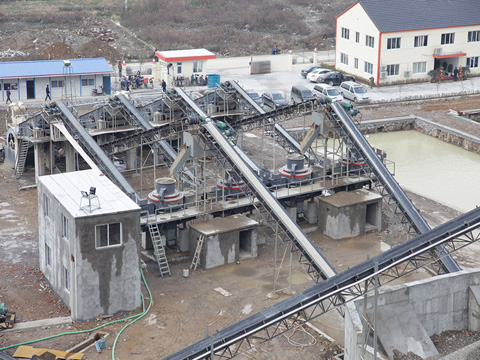 Sand Making Production Line
After many years' research, Zhongde has developed an internationally advanced vertical shaft impact crusher, which can be used together with other machinery as a complete sand making flow. This design racks a leading role in the same industry.
Work Principle:
The raw material is transferred to jaw crusher for primary crushing by vibrating feeder, then the belt conveyor transfers the elementary products to the secondary-crushing machine for secondary crush. The materials crushed will be transferred to the vibrating screen. The parts satisfying the standard of the vertical shaft impact crusher will be conveyed to the sand-making machine and the other parts will return to the secondary-crushing machine. The others with unsuitable size will be screened from vibrating screen, and then will be transferred to the sand-making machine, this forms a closed circuit manifold cycles.
CHARACTERISTICS
1. Cubic shape of final product with excellent quality; the needle and slice shaped product is minimum; the high compression strength is suitable for high standard construction such as water conservancy, bridge, high way and high-rise buildings.
2. Unlike traditional sand making equipment only restrict in soft rock with compression strength less than 150MPA, this equipment is suitable for grinding of granite, basalt, bank gravel, bauxite, cement clinker, quartz, silicon carbide, ore sand and iron ore;
3. Our company's senior engineers can make the machine by customer's requirements and choose the equipment scientifically without rework. The machines will not backward within three to five years.
4. The content of mud and powder can be controlled.
If you're in need of a Sand Making Production Line you've come to the right place. Whether you know exactly what you need, or are in need of some guidance, we are here to help. Please feel free to contact us via Email or filling in the following form.