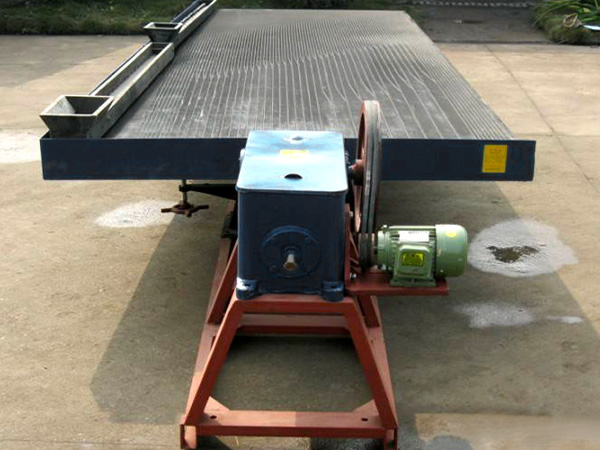 Shaking Table
Product Model: Various specificiations for choice
Production capacity: 10-60t/d
Material: tin ore, tungsten, gold and silver ores, lead, zinc, tantalum, niobium ore, iron, manganese, titanium, and coal,etc.
Shaking table which is one gravity separation machine can be widely applied in separating minerals, especially for separating gold and coal.The shaking table is a gravity dressing machine.It is designed to wet gravity-based separation of minerals and other granular materials.
Mineral processing shaking table is usually composed of three parts: the bed, rack and transmission mechanism; besides the above, there are also flushing tank, feed chute and base. The entire bed is supported or lift by the rack, which is equipped with slope regulation device. Beneficiation shaker allows mineral particles doing different movement along different directions according to their density and particle size, and fanning out from the starting of feed chute along the diagonal and discharge materials along the edge of the bed surface in turn; the discharge line is long, so it can accurately estate a variety of different quality product, such as concentrates, sub-concentrate and tailings, etc.
Beneficiation shaking as the re-election equipment has been widely used for the separation of placer gold and other minerals, mainly for gold or coal preparation.
Classification:
Ore beneficiation shaker, slime beneficiation shaker, glass steel beneficiation shaker, 6-S beneficiation shaker, LS beneficiation shaker.
Influencing factors
The asymmetry of shaker movement: it has great influences on the selective removal of ore particles along the longitudinal direction and bed loose.
Stroke and jig frequency: They are directly determines the movement speed of bed surface and the size of accelerated velocity. As for the coarse grained materials and big load operation, we can use big stroke and small jig frequency; or, using small stroke and big jig frequency.
Water and slope: they affect the transverse flow velocities and the thickness of the water layer of the bed surface and determine the lateral transferring speed of mineral particles and cleaning effects.
Feeding volume and feeding concentration: both affect the stratification and transporting speed. Excessive volume causes the bed too thick, deteriorates delamination and increases transporting speed so that elevates tailings grade, and decline the recovery rate. Too small volume declines handling capacity.
Feeding size and shape: they affect the accuracy of sorting by density. To this end, classification and desliming before selection is necessary.
Original link: http://www.hxjqcrusher.com/137.htm
Name
Unit
Grit concentrator table
Fine sand concentrator table
Sludge concentrator table
Dimensions
Length
MM
4450
4450
4450
Driving part width
MM
1855
1855
1855
Concentrate part width
MM
1546
1546
1546
Max.feeding size
MM
2
0.5
0.15
Feeding amount
T/d
30-60
10-20
15-25
Feeding thickness
%
25-30
20-25
15-25
Journey
MM
16-22
11-16
8-16
Frequency
F
15-48
48-53
50-57
Water quantity
T/d
80-150
30-60
10-17
Horizontal obliquity
Degree
2.5-4.5
1.5-3.5
1-2
Portrait obliquity
%
1.4
0.92
----
Table board corner
Degree
32-42
40
42
Concentrating square
----
7.6
7.6
7.6
Table board length ratio
----
2.6
2.6
2.6
Motor power
KW
1.1
1.1
1.1
If you're in need of a Shaking Table you've come to the right place. Whether you know exactly what you need, or are in need of some guidance, we are here to help. Please feel free to contact us via Email or filling in the following form.