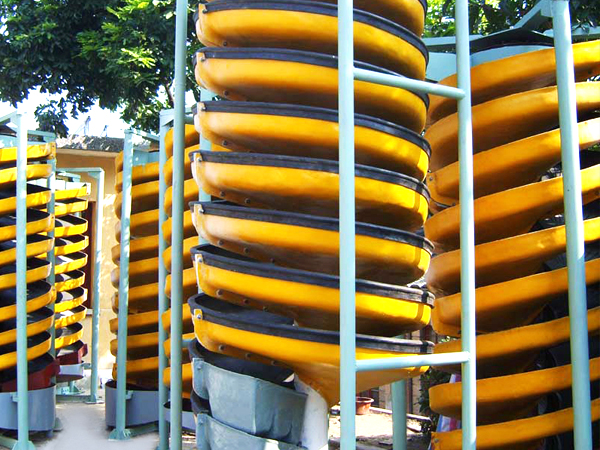 Spiral Chute
Product Model: Various specificiations for choice
Production capacity: 2-40t/h
Material: iron ore, ilmenite, chromite, pyrite, zircon, rutile, monazite, phosphorus B ore, tungsten ore, tin, tantalum, and niobium mine,etc.
Spiral chute combines the characteristics of spiral separator, spiral chute, shaking table and centrifugal separator.It is the ideal equipment for mining and ore beneficiation, especially for mining in seashore, riverside, sand beach and brook.
Gravity spiral chute, a kind of equipment which combine the features of spiral concentrator, spiral chute, shaking table and centrifugal concentrator equipment, is the optimum equipment for mining and mineral processing. Especially for the placer mining in the seaside, river, sand beach and brook, the spiral chute is more desirable. The spiral chute separator has the advantages of light weight, moistureproof, antirust, corrosion-resistant, strong adaptability to the feeding and the fluctuations in concentration, particle size and grade, no noise and so on.
This equipment applies to the sorting of fine minerals whose particle size is from 0.3 - 0.02 mm such as iron ore, ilmenite, chromite, pyrite, zircon, rutile, monazite, tungsten ore, tin, tantalumore, niobium ore as well as other non-ferrous metals with differences in the proportion, rare metals and non-metallic minerals. In addition, the spiral chute is easy to operate with stable sorting process, the allowed changing range of feeding concentration is wide, the water consumption is low and other advantages.
Features:
1.The gravity spiral chute has reasonable structure, simple installation and small floor space.
2.Easy operation, stable ore beneficiation, clear processing and large throughput.
3.High efficiency, high beneficiation enrichment, high recovery rate and reliable operation.
Spiral chute is assembled by the screw blade which is made of glass fiber reinforced plastic. The inner surface of the blade is equipped with resistant lining that is made of urethanes or the epoxy resin mixed emery. Spiral chute is supported on a metal structure shelve. Above it, there are mineral separation machine and receiving shaft, while the products interception machine and the receiving shaft are on the lower part. According to the different needs of the processing amount, the spiral chute unit can be made into different layers, namely the single head structure, double head structure and so on to meet the various requirements of the users.
Original link: http://www.ore-mills.com/gravity-spiral-chute.html
Model
DL2000
DL1500
LL1200
LL900
External diameter
(mm)
2000
1500
1200
900
Inner diameter
(mm)
360
250
220
180
Screw distance
(mm)
1200
900-675
720/540
540/360
Ratio
(scroll distance/diameter)
0.6
0.6
0.6/0.45
0.6/0.4
Transverse obliquity
( °)
9
9
9
9
Star
2-4
2-4
2-4
2-4
Turn
3.5
4
4/5
4/5
Feeding size
(mm)
0.4-1
0.03-1
0.03-0.3
0.03-0.3
Feeding thickness
(%)
20-45
30-45
30-50
30-50
Processing capacity
(t/h)
15-40
8-16
4-6
2-3
Area
( m² )
5.7
3.3
2
1.2
Height
(mm)
6.6-8
5.5
5.23
3.2
If you're in need of a Spiral Chute you've come to the right place. Whether you know exactly what you need, or are in need of some guidance, we are here to help. Please feel free to contact us via Email or filling in the following form.